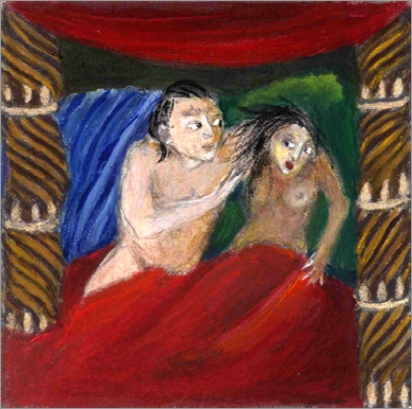 Sheba and Solomon V
Ten years after her groundbreaking show at the National Gallery in London and five years after her exhibition at the Victoria Art Gallery, Bath, Ana Maria Pacheco exhibited in the gallery for the first time during the Bath Art Affair this autumn. A welcome return to the City for one of Britain's leading contemporary artists.
Pacheco who was born in Brazil has lived and worked in the UK for the last 37 years. It was in 1973 when she first came to England on a British Council Scholarship to the Slade School of Fine Art in London, where she was encouraged into printmaking by Bartolomeu dos Santos, then head of printmaking at the Slade. Since then, printmaking has become an integral part of her working practice and she often describes arriving at a final work through a process of circumnavigation, which begins with prints and drawings and ends, usually with a large sculptural work.
This exhibition focused on the female figure. In two large oil pastel on paper, Hades III and Hades IV, Pacheco has taken two ancient myths – Persephone and Demeter and Isis and Osiris – and has brought them straight into our time, each work expressing emotional and physical power, innocence, grief and joy.
"As usual the artist has recourse to mythical or historical context, but the idea is not to portray it as it is shown in the sources, or just to provide illustrations to enrich or develop the literary texts. In fact, she reinterprets the narratives in counterpoint with present-day cultural tensions…introducing a whole new and surprising repertoire of artistic references." (Nicolau Sevcenko)
The richness of Pacheco's imagery is emphasised by her use of different mediums. The show included original works on paper including prints, with a series of new drypoints being exhibited for the first time.
----------