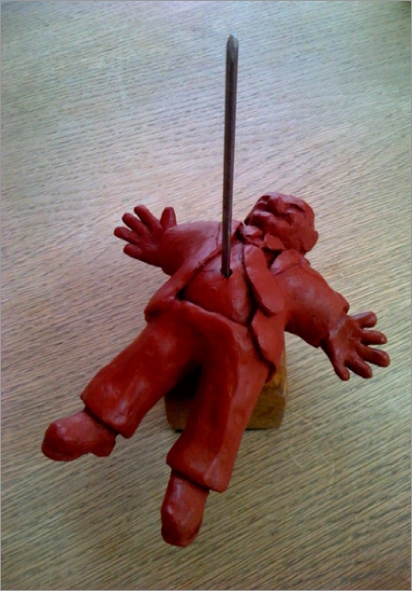 Puppeteer, sculptor, mechanical wizard Andrew Hume took over the Chapel Row Gallery for the final two weeks of August. With a hint of antique fairground architecture about it, and constructions reminiscent of penny arcade slot machines, this show promised to be anything but dull, so visitors rolled up and consumed or rather swapped – attached to each work was a list of items which the artist would swap the work for.
With most works made from recycled materials and some interactive, the show had as its theme the topical question of human exploitation of the planet's resources.
Hume who studied at Guildford and Farnham Art Colleges and was a member of Bath Arts Workshop and Natural Theatre Company founded the Bath Puppet Theatre in Bath in 1979 in a permanent theatre space on the banks of the River Avon by Pulteney Bridge. He still works as a puppeteer (but no longer has the permanent theatre space) as well as working for numerous companies in Bristol, model making for film animation, making theatre masks and props; also casting and model making for sculptors. Hume is one of the most inventive artists in the area and can be relied upon to provide apt and thought provoking work.
----------