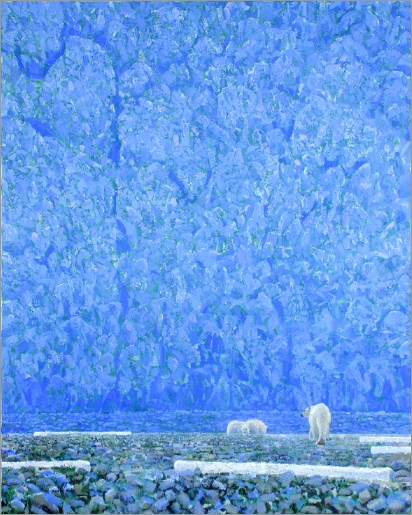 'Blue Ice, Bears and Driftwood' by Darren Rees
Grizzly bears, kaola bears and hares, rhinos, caracal lynxes, leopards and lions filled the Chapel Row Gallery in January - there was even be a mouse. Some were in three dimensions, some in two, all the work of seven artists: one painter, three printmakers, a sculptor, a ceramicist and a private press.
Animals have featured in art as long as there has been art. The cave painters depicted them, the Egyptians deified them, in the 20th century they were turned in to cartoon characters and pickled in formaldehyde. The artists in this exhibition celebrate them in paint, in clay, in ink, in metal and in books.
New to the Chapel Row Gallery were the paintings of the Scottish artist Darren Rees, whose work has received many awards including Birdwatch Artist of the Year, Natural World and RSPB Fine Art Awards. In 2008 his painting, 'Ice, Bear, Moraine' won the 'Wild Places' Award in the Wildlife Artist of the Year Exhibition.
Other artists new to Chapel Row Gallery were the Somerset printmaker Julia Manning whose large colourful wood and linocuts are much sought after and Yorkshire ceramicist Jill Moger whose intricately modelled and finely detailed ceramic sculpture of wildlife, mainly reptiles, are equally collectable. The work of sculptor David Mayne and painter Maggi Hambling will be known to many, as will the beautifully printed, beautifully illustrated books of Dennis Hall from the Inky Parrot Press in Oxfordshire.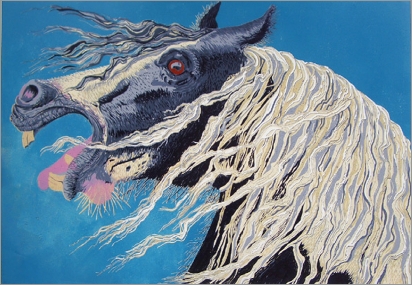 'Thrasher' by Julia Manning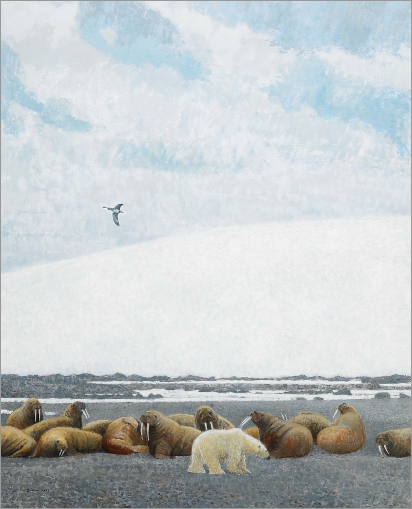 'Stalemate, Soroya' by Darren Rees
----------