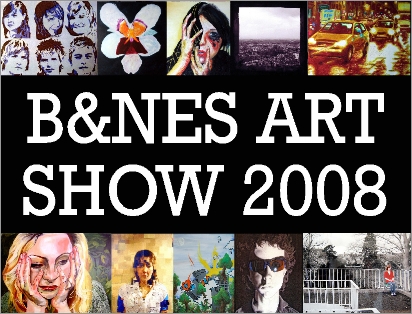 Exhibition for talented young artists
Young artists had the opportunity to show their work in a professional setting during an exhibition supported by Bath & North East Somerset Council.
The exhibition stemmed from a suggestion two years ago by the Heads of Art departments in Bath & North East Somerset local authority secondary schools. Last year's first show of its kind was highly successful and Josie Reed, the owner of Chapel Row Gallery, off Queen Square in Bath, was happy to support students again in this.
Martyn Plant, the Head of Art at Norton Hill School, has worked at mounting the exhibition with students from his Year 13 Art group. They have been involved in visiting the gallery, measuring and photographing the space and selecting a suitable range of art from across the ten schools which shows some of the best art produced by young artists in Bath and North East Somerset, in a range of media and styles.
Peter Spain, Secondary Teaching & Learning Consultant for Bath & North East Somerset Council's Children's Services, said "We were delighted with the response to the exhibition last year with members of the public interested in the young people's work. The experience of those students who worked at curating the show and those whose work was exhibited was very rewarding. I was very pleased that Josie Reed could again accommodate the work of 15-18 year olds from across Bath & North East Somerset.
I am sure the family, friends and wider public will enjoy the high quality art on show at the start of November".
----------