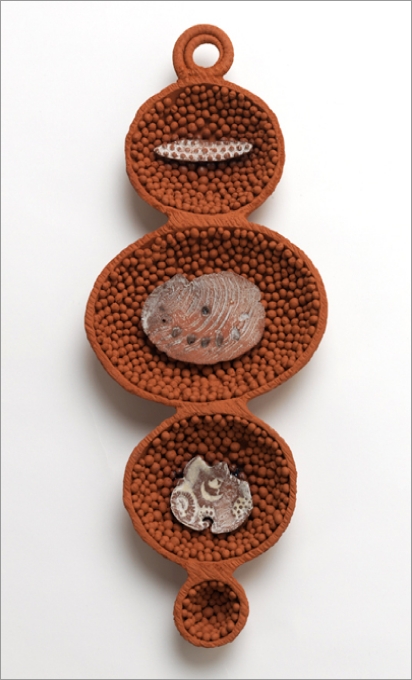 'Seed Pod with Curl', Clare Day 2009, terracotta with matt glaze, 35 x 14 x 3cm
There are many layers to the work of Jean Farrell and Clare Day. Whilst both artists make work that is a direct response to their chosen materials, their work also looks at inner emotional landscapes.
Jean Farrell's latest sculptures in wood have great strength and presence. Her work explores the contribution that symbols and figures make in sacred geometry within the landscape, and respects the true nature of wood, stone, metal and gold leaf. She also be exhibited the wood block prints that spawned her current interest in the materials in which she now works, often with an exuberance that characterises her very nature.
Clare Day makes detailed sculptural work in clay. The work is about surfaces, texture and imprint; imprint on the clay and imprint on the memory. Her pieces are on a human scale, something you might hold in your hand to evoke the feeling of a treasured object you have found. On the surface the pebble forms could be something beautiful from the shoreline, but look deeper and they tell a darker story.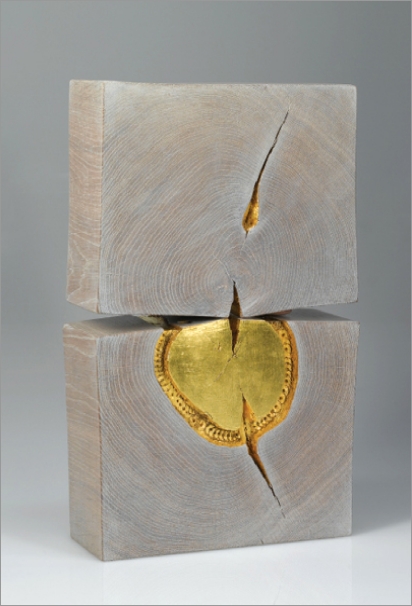 Untitled, Jean Farrell 2009, limed oak with gold leaf, 34 x 21 x 8cm
----------