Daniel Broadley, Tom Clark, Iain Cotton, Tim Harrisson, Eric Marland, Janet Mullarney, Willy Verginer, Verity Workshop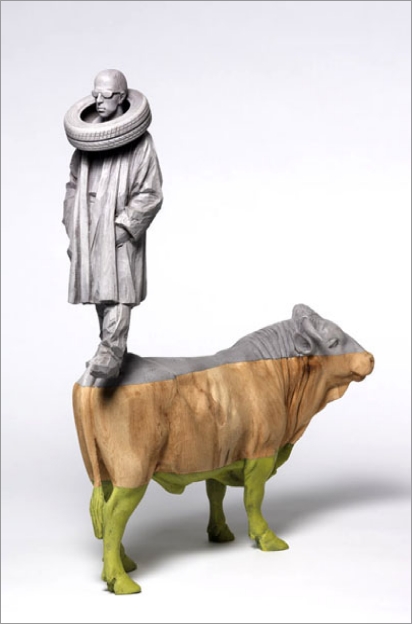 'Fog on the plain' 2008, Willy Verginer, Swiss Stone Pine, 63 x 60cms
The UK got its first taste of the work of the brilliant Northern Italian woodcarver Willy Verginer in our summer show of contemporary carvings in stone and wood. Verginer's partly coloured figurative sculptures came to Bath from Milan where he has shown with huge success.
Alongside the work of the Italian were woodcarvings by Irish artist Janet Mullarney, who also has a studio in Italy. The works of Verginer and Mullarney owe much to the Italian tradition of painted woodcarvings, on show in every Italian church. This was the first showing for both artists at the Chapel Row Gallery.
Bath of course has its own tradition of carving – in stone, and two of Bath's contemporary stonecarvers featured in this exhibition. Daniel Broadley showed figurative works, some in relief, some in the round, while lettercarver Iain Cotton showed a playful selection of stone words.
Cambridge based letter cutter Eric Marland – whose work 'Wars are poor chisels for carving out peaceful tomorrows' (a Martin Luther King quotation) should surely be erected outside 10 Downing Street – is, like the Verity Workshop in Wiltshire, much in demand for memorial art. The church, in a roundabout way, remains a source of work for contemporary carvers: Tom Clark served his apprenticeship at Chichester Cathedral and has worked at Ely and Westminster Cathedrals amongst others; while Salisbury Cathedral and its Close has proved an inspiring exhibition space for Tim Harrisson.

Click here to dowload an exhibition handlist in PDF format.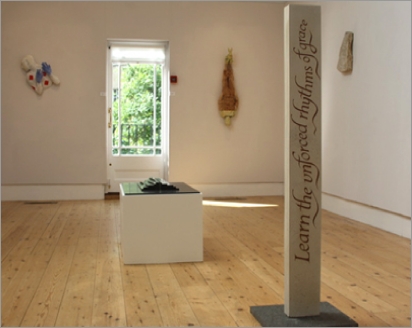 'Wars are poor chisels' 2009, Eric Marland, Ancaster stone, 40cms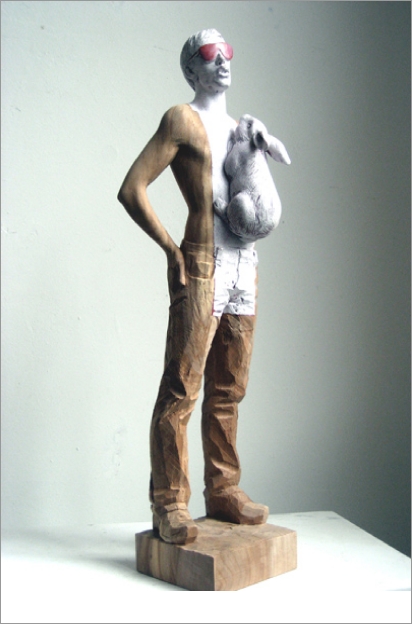 'Rabbit's Roar', Willy Verginer
----------