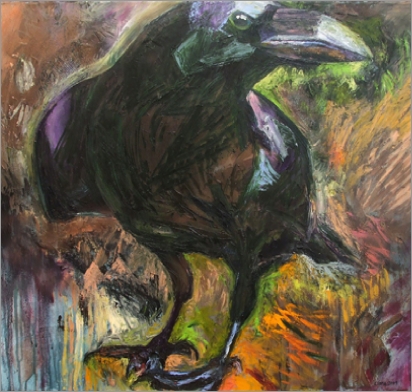 'Raven' by Clare Shepherd
An exhibition of new work by Dorset artists Clare Shepherd and Annie Taylor: the show was a presentation of paintings that explore both internal and external landscapes.
Clare's painting is an integral part of her life, being mainly a response to those things which happen in the course of time both at home and away. From a very young age Clare remembers her desire to be in a landscape, knowing not only that she wanted to live in a rural place, but also that she had a profound desire and deep satisfaction in distilling the essence of any landscape she is, or has been, in.
At Chapel Row Clare presented a series of paintings which were made before, during and after a High Court case which her son went through a year ago after an accusation made against him (for which he was found 'not guilty'). Clare explored her own feelings regarding the case and the relationship of her son to the family during the progression of that time. Leading on from the case Clare developed two particular motifs (sheep skull and crow) which she links to Passover, a theme which Clare has re-visited from previous times in her own painting and for which there is a rich history in art and painting for her to contemplate.
"I'm sure I'm not alone in finding it incredibly hard to define what I do and why. The best I can say is that at the age of 50 I finally feel that I have time for nothing else but painting. Everything else gets in the way. Little else is on my mind."
For Annie a profound love of the English countryside was there from childhood and a desire to express and share that feeling has driven her work to date. Recently re-married she now spends part of her life in France where her new collection of work has been produced. Working entirely in isolation in her mountain studio in the Pyrenees, the 'distillation' process that Clare refers to has proved a significant struggle, not only in her development as a painter, but also in her quest to get under the skin of an entirely different landscape. Driven by a certain amount of homesickness, she initially returned to wistful paintings of Dorset where she still has a home. Then still struggling to find her own voice to express the grandeur of the mountains, she resorted to a series of paintings of woodland which somehow bridged the gap between one terrain and another. Finally she has begun producing work which shows the mountains as she sees them and which capture something of the richness of colour that brought the Fauvist. painters to the Mediterranean. The Chapel Row show charted this journey.
"My roots are in Dorset. It is a countryside I know and love and can easily translate, finding an innate femininity in the gentle rolling contours of Cranborne Chase. In France I am surrounded by masculinity: jagged, arid terrain, mountains all powerful, both reassuring and at times threatening. I am only now beginning to find a way to express my relationship with this land."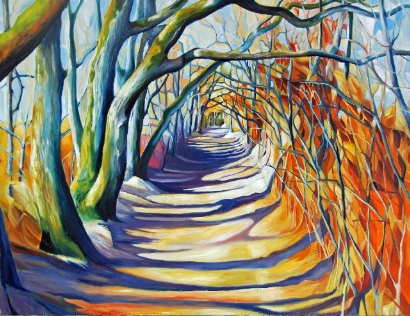 'Meditation' by Annie Taylor
Biographical notes
Clare studied at The Slade School of Fine Art, particularly under Noel Forster, Mick Moon and Lawrence Gowing. She was winner of The Slade Prize on graduation. Clare now runs regular courses in Dorset and has taught at the University of Bath. She is fiercely proud of her students and the work they do.
Annie was one of Clare's students. She started painting when living in the States in her early thirties. There she was a partner in an art gallery and painting studio and learned to paint alongside professional artists for a couple of years. But as a single mother with a daughter to raise it was not until 2003 that Annie was able to return to painting. She joined Clare's class, was awarded a grant to work with Clare as her mentor and began to paint full time in 2005.
Links:
clareshepherd.com
annie-taylor.com
----------