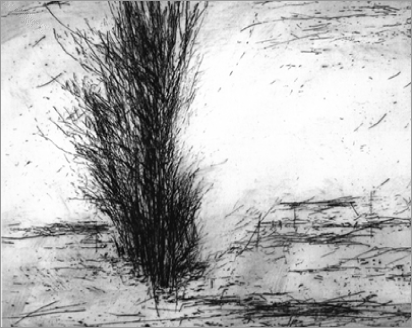 'Poplars in the Snow', David Sully, etching
Recent works on paper by Ian Chamberlain, Ros Ford, David Inshaw, Richard Kenton Webb, Andrew Smith and David Sully.
To coincide with the National Campaign for Drawing's 'Big Draw' the Chapel Row Gallery got six of the best artists in the South West together to show how they use drawing in their work as printmakers. Five of the six artists are linked to the University of the West of England where they either studied or work as lecturers.
Bristol-based artist Ros Ford, who completed an MA in Printmaking at UWE in 2008, showed her huge etchings which recently won her the Purchase Prize in the RWA's Open Print Exhibition. Gloucestershire artist and colourist Richard Kenton Webb showed drawings, prints and even paintings from his 'red' series, fellow UWE lecturer Ian Chamberlain showed his spacey satellite series completed when he was artist in residence at Goonhilly Space Station at Helston, Cornwall.
David Inshaw, David Sully and Andrew Smith use the landscape as their starting point: Sully often working like Ros Ford 'en plein air' - drawing directly on to an etching plate. Inshaw's recent etchings reflect his passion for cricket and for a particular Dorset cricket pitch – Little Bredy.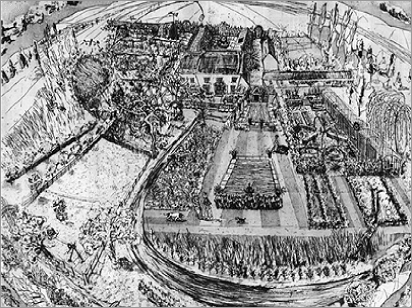 'Garden, Blagdon', Ros Ford, etching
On Saturday 24 October there was a 'Big Draw' event in the gallery when everyone could pick up pencil and paper and get drawing and even turn their drawings into prints, to help depict 'A day in the life of Bath's Queen Square.'
----------