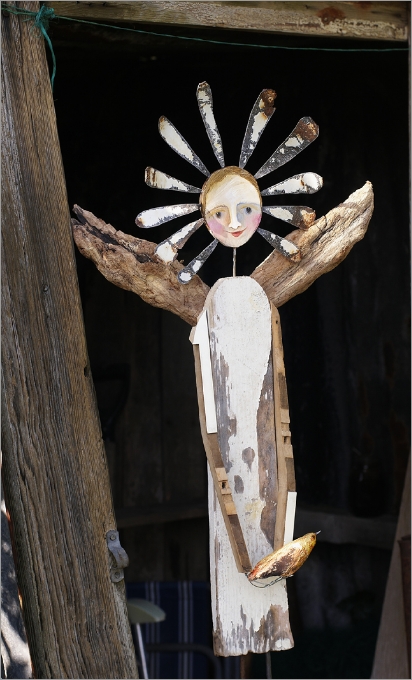 Followers of the Bath art scene and visitors to Bath's Royal United Hospital will be familiar with the exuberant sculpture of Edwina Bridgeman whose solo exhibition of new work opened at the Chapel Row Gallery on 15 November. All the works are for sale: further details are here.
Bridgeman's brilliance lies in her ability to see the beauty of everyday objects no matter how battered or bruised they may be. She breathes new life into the discarded. In her hands rusty fragments of metal and bits and pieces of old wood turn into smiling angels.
Bridgeman's background in the theatre is crucial to her current work. She trained at the Rose Bruford College of Speech and Drama and took her first diploma in Technical Theatre Arts. Her father, Ken Bridgeman, was a theatre and film designer and her mother Brenda, an actress. She worked as a scenery painter and prop maker at the Old Vic and in other theatres before becoming a full-time artist.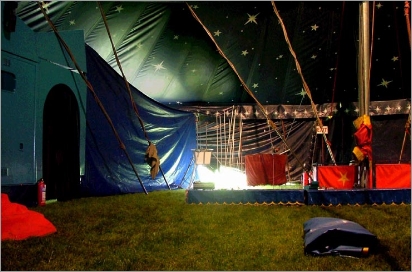 To coincide with Edwina Bridgeman's exhibition of sculpture, Sandra Demar's recent series of digital photographs titled 'Mise-en-scėne', were shown in the lower galleries. Her richly coloured prints of empty theatres and the circus taken before the arrival of audience, actors or showmen brilliantly capture the inherent drama of these empty places, with lights and seats and ropes and curtains. Demar, who graduated from Bath Spa University College in 2000, lives and works in Somerset.