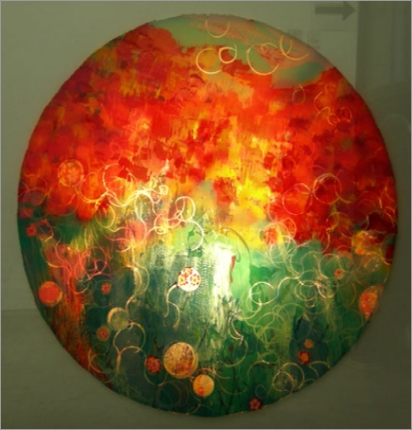 The radiant abstract prints of Bristol artist Gail Mason provided a vibrant start to 2010 at the Chapel Row Gallery. Whether on paper or Perspex, in a frame or a lightbox, Mason's work glows.
A recent post-graduate from the University of the West of England's printmaking department, Mason's prints have won prizes, including the Curwen Studio Prize at 'Originals 08' at the Mall Galleries, London. Monoprinting and screenprinting are her preferred techniques and she fully exploits their possibilities, layering paper and Perspex to achieve unusual depth and texture in her prints.
The recent Kasbah, Oasis and Landscape series show a shift in her practice from painterly layers to opaque colour, allowing the eye to rest and create a sense of calm. They explore the use of vibrant solid colour. The use of white within a dense colour field has also characterised these recent works.
Representing two routes of recent interest, circular painterly monotypes in lightboxes and the use of sumptuous pure pigments composed within a square, the work has at its root the positive impact of colour on the senses. Perfect viewing on a winter's day.
----------