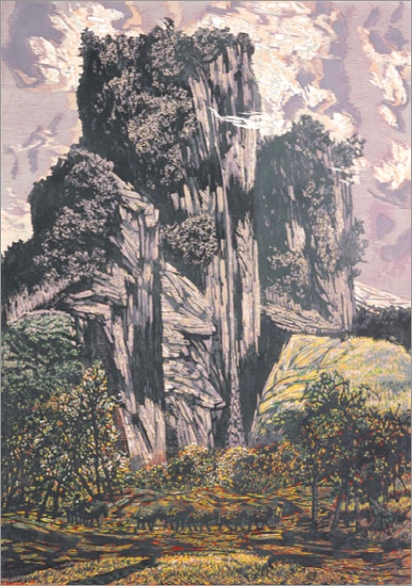 'The Old Tea Road in Yunnan' 2007, reduction woodblock print, 68 x 90cms
The woodblock prints of the Chinese artist He Kun will be familiar to printmakers in Bristol. He Kun, who lives in Puer, close to the Burmese and Thai borders in South West China, has visited Bristol's Spike Island on at least two occasions to teach the very particular skill of reduction woodblock printing, but his watercolours may be new even to Bristolians. This was his first exhibition in Bath at the Chapel Row Gallery and he came from China for the opening.
He Kun (born in 1962) is part of a group of printmakers from Puer (famous for its tea) who have been at the forefront of the development in China of the technique known as reduction woodblock printing, whereby prints are produced from a single block of wood (or indeed MDF) which is cut, printed, cut and printed again up to 20 times with 20 different colours. This technique using oil based inks results in richly coloured, textured prints, quite unlike a traditional English woodblock print. By the end of the reduction process little is left of the woodblock and it cannot be reused.
For this show at the Chapel Row Gallery, Josie Reed who met He Kun in Shanghai in 2007 and then visited his studio in Simao in 2008, selected 17 prints and 4 watercolours, including one vibrant scroll-like watercolour that measures nearly 2 metres. The watercolours showed how He Kun has managed to replicate his painting technique in printmaking: the one skill informing the other.
The landscape of Puerh is the main focus of much of the work and understandably so because it is one of the most luscious landscapes in China, with high mountains, rolling hills and valleys, all intensely green thanks to the tea plantations.
All the works in the exhibition were for sale - prices ranged from £100 to £6,000.
The British Museum and The British Library already own works by He Kun.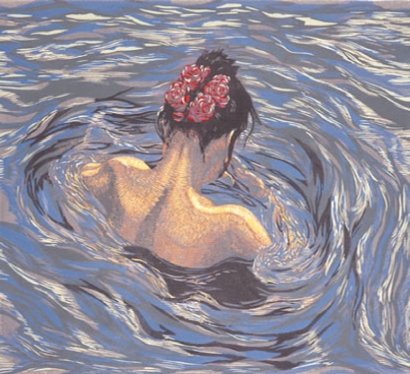 'Hot Spring 3', 2006, reduction woodblock print, 45 x 40cms
----------