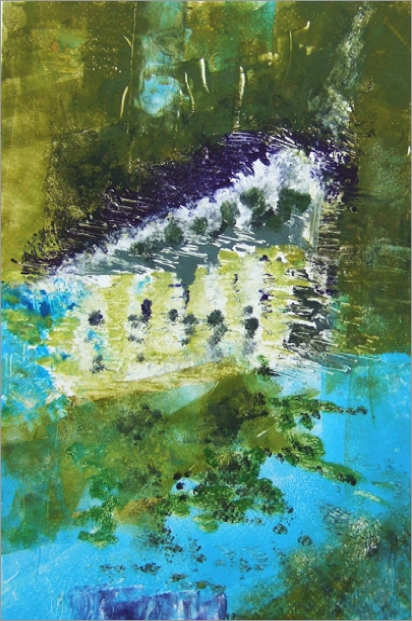 'The White Bridge', Lynne Cunningham, monoprint
Bath Artist Printmakers celebrated their 25th birthday with an exhibition of new prints by their current members at the Chapel Row Gallery in September 2009.
It was in 1984 that three women artists and a bookbinder set out to realise their ambition of starting their own printmaking studio. Having studied and attended local printmaking courses and feeling fully competent in relief printing, etching, screen printing and lithography they embarked on a project to find a space and other like minded artists to set up a studio.
Their dream was realised with the aid of a small grant from South-West Arts and through the generosity of members of the newly formed group. Space was found in Broad Street, a Rochat press was purchased and the studio was soon up and running. At the end of 2004 they moved from the centre of Bath to premises in Larkhall. Today the organisation is thriving with over 30 members using a wide range of printmaking techniques.
At an early stage in their existence they made contact with similar groups in European towns twinned with Bath. This has resulted in exchange exhibitions with Alkmaar, Brunswick and Aix-en-Provence. In 1997/8 they mounted a joint exhibition with the Grafische Atelier of Alkmaar at the Victoria Art Gallery in Bath.
----------