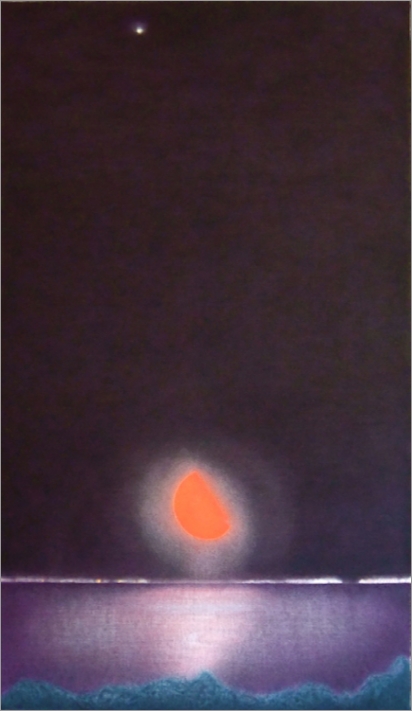 Jackie Harding has been a practising artist all her working life, and a teacher of drawing and painting since 1968. She lives and works in Bath, where she lectures at the City of Bath College.
Her paintings are predominantly concerned with colour, together with structure and space.
Much of her earlier work has been sourced from Morocco and Egypt and - more recently - trips to Cornwall, Cuba, France and Turkey.
The brochure for her 1998 exhibition, Spirit of Place, at the Victoria Gallery, Bath, describes her work as "luminous, exquisitely coloured oil paintings that distill the feelings and totality of experience engendered by different places".
----------
Jackie Harding's Paintings
by Peter Davies
Jackie Harding's paintings are purely about light, space and colour. They convey through paint the living presence of air and water - or the sky and sea - and are frequently animated with birds, animals or solitary human figures. They have the exquisite touch, nuanced surface and all-over treatment of abstract 'colour field' painting, yet retain the poetic content of a reduced figuration.
There is, in this experienced and sophisticated painter's work, a certain faux naif charm recalling Milton Avery, Mary Newcomb, Richard Eurich or Albert Marquet, though the formal and atmospheric integrity of the picture as an independent, plastic object preserves the work from being whimsy or facile decoration. The paintings breathe with an internal energy that is, sure as day, the product of intense artistic introspection and laboured craftsmanship.
Since her Slade School student days, Harding has recognised the pivotal role of drawing - even in large, seemingly empty or near-monochrome canvases - and the overall oeuvre 'grows' from sharply observed and deeply modeled pencil sketches - landscapes, portraits, still lifes, or copies of revered old and modern masters, ranging from Velasquez and Vermeer to Bonnard - through intermediary small and medium oils on paper, to large scale canvases.
In common with that of many modern masters, Harding's work reflects interest in travel. Exotic flora and intense light enter her compositions of beaches and palms against transparent, jade seas, courtesy of trips to Egypt, Morocco, the Mediteranean, the Caribbean, Cornwall and other locations. Harding's artistic bent reaches back to early childhood, when her imagination was inspired by exotic cultures and distant locations to the extent of filling sketch books. There was, during her Sheffield youth, never any doubt she would make an artist, a poetic colourist of distinction.
As is the case with most significant art, Jackie Harding's work contains a deceptive simplicity and feeling of refinement that is a product of devotion and undivided seriousness of purpose. The weight of art history, far from being a burden, is something she carries and modifies for her own personal and artistic journey.
----------