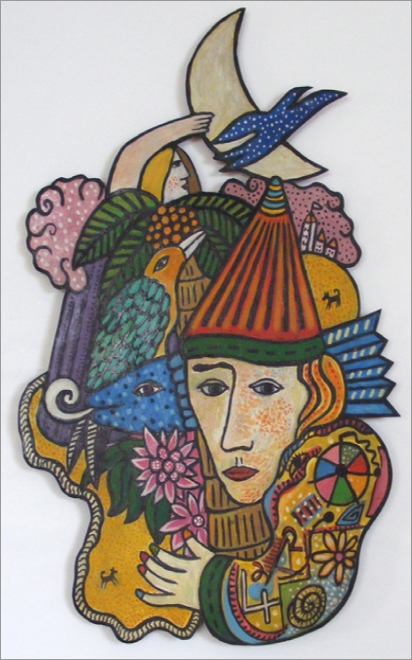 Island Magic, oil on metal, 39 x 25cms
Childlike but not childish, the paintings of Mervyn Charlton are full of colour, full of life and overflowing with ideas. In his 65th year, Charlton retains the vibrancy that first earned him recognition 30 years ago when his work was selected for the Whitechapel Open in London, then arguably the most important place for a young artist to be seen.
Charlton, who moved to Wiltshire from Surrey two years ago, has always been something of an outsider, a painter who has stuck to his guns, following in the footsteps of his hero and mentor Alan Davie. Their work has much in common, a density of ideas and images that appear and reappear. Wheels, ladders, serpents and magicians are just some of the recurring forms.
His first solo exhibition at the Chapel Row Gallery offered a chance to see work completed in the last eleven years. His circular, rectangular and cut-out paintings, some on tin, some on cakeboards show the versatility and originality of the artist.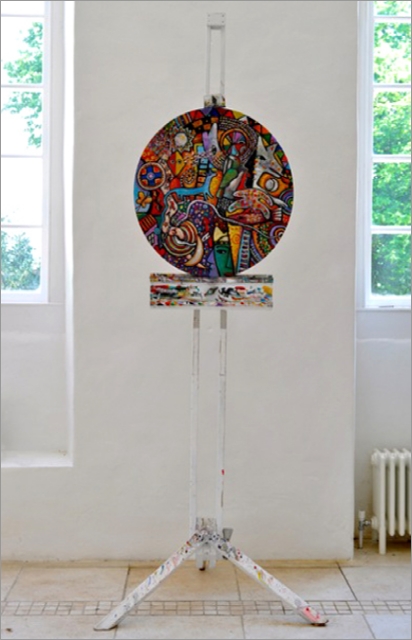 Easel
----------