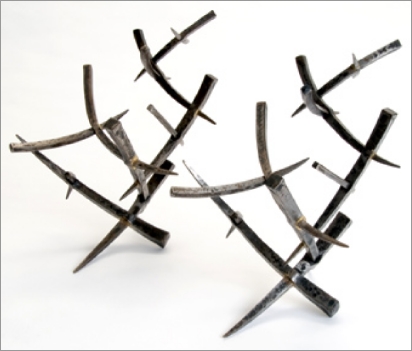 'Spinosity' by Melissa Cole
Melissa Cole, artist blacksmith, showed new works at the Relative Nature exhibition at the gallery from the 22nd to the 27th May.
Recently featured forging her specially commissioned railings and gate for the Wiltshire based contemporary 'barn inspired Marlborough farm house' at Rabley Contemporary Drawing Centre on Grand Designs (4th March, Channel 4), Melissa is no stranger to public appearances, having been previously featured on BBC Radio 4's Woman's Hour as the first woman blacksmith to be awarded the bronze medal by the Worshipful Company of Blacksmiths, Melissa is regularly featured in both local and national newspapers.
The Relative Nature exhibition opened on the 22nd May and included work from four other internationally acclaimed artists.
Mark Somerville, showed his new developments in landscape photography, exploring his surroundings in the Wiltshire landscape with an ethereal and strikingly modern approach to a traditional photography subject. Sister to Mark, Liz Somerville also explored her local West Dorset landscape in a new series of relief prints reminiscent of the work of Nash and Bawden.
Sioban Coppinger, renowned for her work as a sculptor of people and animals has built a reputation for her acutely observed and characterful pieces. She showed newly cast bronzes inspired by natural forms.
Rebecca Cole-Coker, sister of Melissa, creates beautifully observed drawings of plant forms. The drawings have a vibrancy, verging on aggression that is rarely seen in this traditional subject matter, and Rebecca emphasizes the 'beauty' rather than the 'prettiness' of the plants she observes.
The combination of these five artists, all challenging our expectations of traditional subject matter, proved to be an exciting and innovative show to complement the events of the Bath Festival.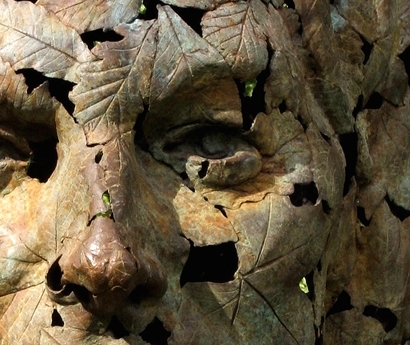 'English Pear' by Sioban Coppinger
Artist's websites:
www.melissacole.co.uk
www.siobancoppinger.co.uk
www.marksomerville.net
www.lizsomerville.co.uk
Details of Rebecca Cole Coker's work by email to corshamst@aol.com or through Melissa Cole please
----------