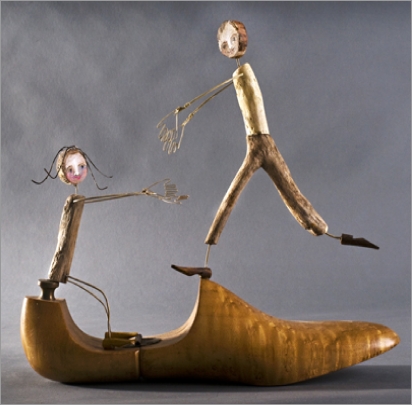 'Rise up my love, my fair one', 2009
If you wanted a joyful and uplifting experience this past winter, then you could have done worse than skip round to the gallery where an exhibition of new work by Bath's best loved artist, Edwina Bridgeman, opened on 5 December. All the works were for sale and they were guaranteed to make you smile.
Bridgeman breathes new life into the discarded. Her brilliance lies in her ability to see the beauty in everyday objects. Whether it's an old shoe tree, a bread bin, a twig or a bit of driftwood, Bridgeman transforms it into treasure. In her hands rusty fragments of metal and old bits of wood turn into dancing angels, dancing dogs and dancing horses.
Bridgeman's theatrical background is crucial to her work. She trained at the Rose Bruford College of Speech and Drama and took her first diploma in Technical Theatre Arts. Her father, Ken Bridgeman, was a theatre and film designer and her mother Brenda, an actress. She worked as a scenery painter and prop maker at the Old Vic and in other theatres before becoming a full-time artist.
----------