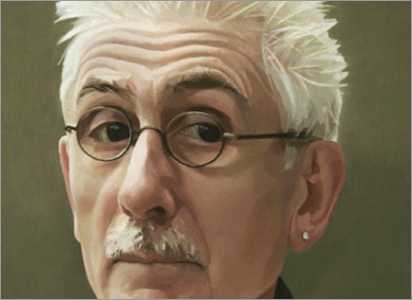 'Small Roy Strong' (detail) by Paul Brason, oil on board, 315 x 275mm, entrant in the Holburne Portrait Prize 2010 exhibition
The Holburne Museum's prestigious biennial portrait competition for artists in the south west returnrd to Chapel Row whilst the Museum is closed for a development project of restoration and extension.
The Prize was established in 2002 as a response to Thomas Gainsborough and his eighteenth-century contemporaries, who made Bath one of England's most important cities for portrait painting. The exhibition showed the best of the region's artists. The winning portrait will be selected from the works on display in the exhibition by a distinguished Prize Panel.
The winning artist receives a commission of £5,000 for a portrait of an individual identified with the cultural life of the south west, such as a musician, an artist or a writer. On completion this portrait will then become part of The Holburne Museum's permanent collection.
Visitors to the exhibition were able to choose their favourite portrait and the artist with the most votes will be awarded The People's Prize.
----------