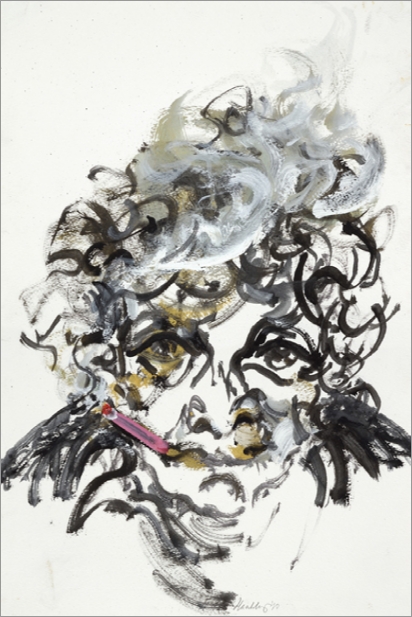 Maggi Hambling: 'Self-Portrait, smoking a Cocktail Sobranie', 2010, oil on paper, 42 x 30cm
FUNdraising and The Big Draw
It wasn't just The BIG Draw - it was a HUGE Draw and not to be missed! The Big Draw Self-Portrait Drawing Show may well prove to be one of those shows that people talk about in decades to come. Why? Because it was a rare show of really good drawings by a very varied bunch of people, some very well known - and all for sale. 50% of the sale price went to the artist and 50% to the Campaign for Drawing - the organisation behind The Big Draw. It is a great organisation and, amazingly, short of money (because they do everything for free).
Maggi Hambling, Andrew Logan and James Lloyd were amongst the artists with work in the National Portrait Gallery who contributed drawings to the show. Less well known for their portraits, indeed not known for their drawings but for their writing were contributors Willy Russell and Philip Pullman*.
Nick Garland, Piers Gough and Posy Simmonds were others who looked in the mirror, picked up a pen (or pencil) and committed themselves to paper.
Josie Reed, director of the Chapel Row Gallery and a trustee of the Campaign for Drawing, said, "This was a rare chance to see and buy first rate self-portrait drawings, desirable, collectable works, some by well-known some by not so well-known artists, and at the same time help a really good organisation".
As featured in The Observer.
----------
*Philip Pullman sent his apologies:
"I did have one last go with a very small mirror, which gave me a patchwork view of my face, so I was going to call it 'Self-portrait in a very small mirror', but my wife pointed out that the angle from which I'd drawn my nose and mouth made me look like a pug. Or it might have a been a pig, I can't quite remember. Anyway, it was distinctly less lovely than I feel from within, so at that point I finally did give up."