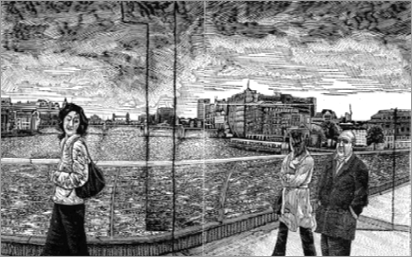 'The Millennium Bridge' (detail), 2009, Neil Bousfield, vinyl engraving, 17 x 129cm
£600 unframed, £750 framed
To Have and To Hold 2
An exhibition of books, calligraphy and prints from the Fine Press Book Association: Susan Allix, Olivia Clifton-Bligh, Gwasg Gregynog, Impact Press, Incline Press, Inky Parrot Press, Spoon Print Press, Mintyfresh (Kate Holland), Andy Moore, Old School Press, Old Stile Press, p's & q's press, Whittington Press, Woodcraft Press.

For a full list of books on show click here.
Neil Bousfield
Engravings.
----------