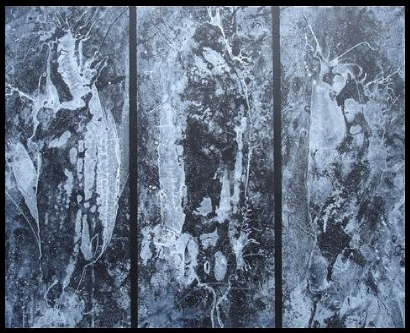 A spell in the Bristol Royal Infirmary following a heart scare was the inspiration behind many of the paintings by artist William Morton, shown from the 20th September to 1st October 2008.
The apparently abstract paintings explored the artist's experience of modern medical technology, including ultra scans and x-rays. As he wrote in an introduction to the exhibition, " To see an ultra scan of one's beating heart or watch the insertion of a tiny balloon in one's coronary artery on screens above one's head is to be drawn into a fascinating and disorientating universe."
An artist who rarely exhibits, William Morton chose to respond to a personal trauma by exhibiting a series of paintings, prints and ceramics, many of which explored the visual intricacies of what he calls the Internal Universe we all contain and inhabit. Watching the screens showing his arteries during an angioplasty procedure made him feel that he contained an infinite space he had never explored, as well as reminding him of romantically dark watercolour landscapes, autumnal mists and hazy photos of long forgotten places he knew as a child. In trying to draw visual parallels between the infinitely huge and the microscopically small, his paintings often bring to mind star charts, x-rays and images that could be distant galaxies or microscopic photos of the human nervous system. All tinged with a sense of calmness and order. As he says, "I have always been interested in science and its disciplines, but it was a sudden and traumatic confrontation with another world – a world of medical technology attended by dispassionate professionals – which opened my eyes to another level of forms and ideas." This fascinating exhibition showed us an artist's response to a personal trauma which he increasingly shares with others. As he has said, "We all think we are immortal and unique until something life-threatening happens to us, then we suddenly realise how fragile we are and how we share our human condition, irrespective of wealth or education or other life chances."
The exhibition included text, ceramics and prints made at Spike Print workshop in Bristol, of which he is a member. The work was regularly re-hung and new work added throughout the duration of the exhibition, both as a performance and in order to develop a multi layered narrative which invited the viewer to witness the development of the forms and ideas behind the work. To that end there were two openings on Saturday 20th September and on Saturday the 27th September, both 2–5pm. On the 27th September the artist also read extracts from his unpublished text The Panic Notebook.
William Morton was born in Glasgow. He studied at the Glasgow School of Art and the school of fine art, Leicester Polytechnic. A painter, printmaker, ceramicist and former lecturer, he lives in North Somerset.
To see some of the work included in the exhibition visit William Morton's web site www.wgmorton.com.
----------